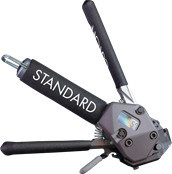 The Advanced Termination System for Interconnect Cable Shielding
Revolutionary Band-Master ATS® System introduces a new range of termination bands and tools designed to reduce size and weight, and fit next-generation ultraminiature connectors and backshells such as Series 88 SuperFly™ and Glenair circular and rectangular nanominiature connectors.
Band-Master ATS® provides quick, easy, cost-effective and highly reliable termination of braided metallic shielding or fabric braid to connectors and backshells. New reduced-length standard and micro bands eliminate waste on small-diameter termination assemblies. New nano band technology provides enables banding shield termination of nanominiature connectors and banding backshells. Finally, Band-Master ATS® termination tools are now equipped with built-in calibration counters for better quality assurance and control of banding operations.
Band Overview and Performance Matrix
Product Datasheet
Manuals
Related Catalogs
---
Manual Tools and Bands
For Standard Bands 601
-005, -040, and -049
For Micro Bands 601
-024, -060, and -064
For Nano Bands 601
-500, -504, -508

For Slim Bands 601-570, -571, -572 and -573
Short Flat 601-570
Short Precoiled 601-571
Medium Flat 601-572
Medium Precoiled 601-573
---
Replacement Parts and Calibration Tools for Manual Banding Tools
Replacement Parts and Calibration Tools for Manual Banding Tools

601-302 Standard Cut-Off Blade Kit
601-301 Standard Cutter Knife
601-305 Micro Cut-Off Blade Kit
601-303 Micro Cutter Knife

601-205 Calibration Key
601-211 and 601-212 Tension Gauge
---
Calibration Kits, Accessories and Pneumatic Banding Tools
601-200 Calibration Kit For All Banding Tools
601-400 Foot Pedal Control for 601-106 and 601-107 Pneumatic Banding Tools

High-Volume Pneumatic Bench-Mount Units and Calibration Kits
Available for Both Micro and Standard Band Termination Systems

601-106 Standard Pneumatic Banding Tool with Counter
601-107 Micro Pneumatic Banding Tool with Counter
601-110 Slim Standard Pneumatic Banding Tool with Counter
601-118 Nano Pneumatic Banding Tool with Counter