A World of Interconnect Solutions
Glenair, Inc. began operations in 1956 as the first company specifically founded to produce electrical connector accessories. Building on that foundation, we now offer a dozen, full-spectrum product lines designed to meet every interconnect requirement, including a broad range of military qualified and commercial connectors, including the MIL-DTL-38999 Series III and our ultralight Series 80 Mighty Mouse.
Glenair is a privately-held company whose strengths include ISO 9001 process quality, full-spectrum product lines, fast "turnaround" on quotes and custom orders, unsurpassed sales and technical support in every major market in the world, and the industry's largest standing inventory of commercial and Mil-Spec electrical connector accessories.
Located in Glendale, California, our connectors, backshells and interconnect cable assemblies are all made either in America or in our facilities in Mansfield, England or Bologna, Italy. With so many interconnect manufacturers moving their production operations to Estonia, Mexico, India, China and elsewhere, Glenair is proud to continue our long-standing tradition of making our products in quality controlled plants here in the USA, or in the case of selected connector products, in Western Europe.
Glenair Head Office Address
1211 Air Way
Glendale, California
91201-2497
USA
Tel: 818-247-6000
Fax: 818-500-9912
Email: sales@glenair.com
---
Commercial and Government Entity (CAGE) Code
Capabilities
Slideshow Presentation
Terms and Conditions:
Certificate of Registration and Approval
Document
Quality Management System Standards
Registrar
Applicable To
Certificate of Registration - Glenair, Inc.
ISO9001 and AS9100
Perry Johnson Registrars, Inc.
Design, Manufacture and Distribution of Electrical and Optical Interconnect Products
Certificate of Approval - Glenair Korea Co., Ltd.
AS9100
(technically equivalent to EN9100)
ISO9001
Lloyd's Register Quality Assurance Limited
Design, Development and Manufacture of EMI Filters for Aircraft and Defence.
Manufacture of Cable Assemblies for Aircraft and Defence.
Quality Management System Certificates from DNV Business Assurance
---
| | |
| --- | --- |
| | Nadcap Accreditation, Electronics Cable and Harness Assemblies |
---
| | |
| --- | --- |
| | Glenair Catalogs and QuickConnect Newsletters on the Glenair iOS Mobile App |
---
| | |
| --- | --- |
| | Glenair Logo |
---
Glenair Head Office Map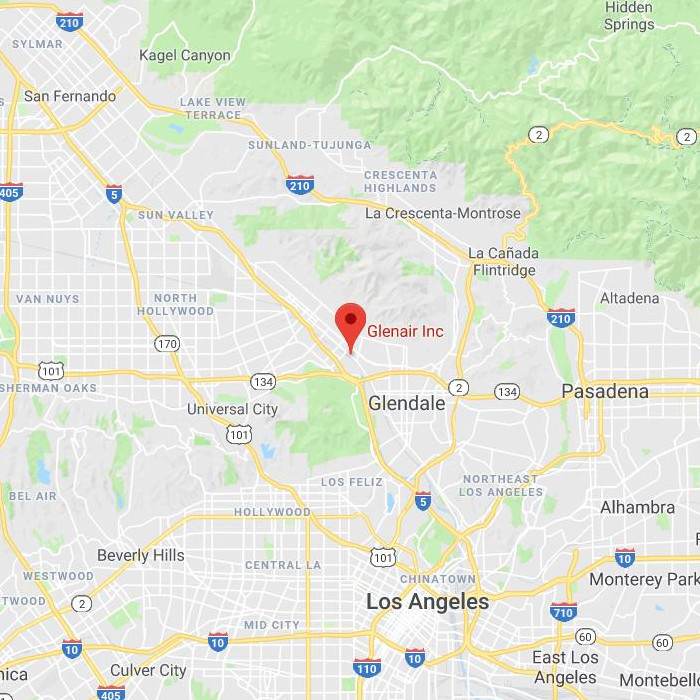 Driving Directions From:
Contacts

| Contact | Location | Tel |
| --- | --- | --- |
| Glenair Corporate Headquarters | Glendale, California, USA | 818-247-6000 |
| Glenair Microway Systems | Lincolnwood, Illinois, USA | 847-679-8833 |
| Glenair Connecticut | Connecticut, USA | 203-741-1115 |
| Glenair France | Toulouse, France | +33 5-34-40-97-40 |
| Glenair GmbH | Bad Homburg, Germany | +49 (0) 6172 6816-0 |
| Glenair Iberica | Madrid, Spain | +34-925-89-29-88 |
| Glenair Italia S.p.A. | Bologna, Italy | +39-051-782811 |
| Glenair Korea Co., Ltd. | Gunpo-Si, Korea | 82-31-8068-1090 |
| Glenair Nordic AB | Solna, Sweden | +46-8-50550000 |
| Glenair United Kingdom & Ireland | Mansfield, England | +44 1623-638100 |