Interconnect Cable Assembly Tools > One Stop Shopping
Wire System Maintenance and Connector Tooling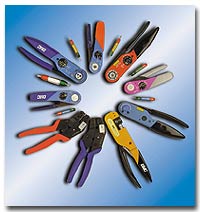 Factory and field assembly of electrical and optical interconnect harnesses requires an extensive array of specialized tooling: from wire cutters and strippers to contact termination tools, contact insertion and removal tools, connector holding tools, shield termination tools, circuit testers and more. For large applications, such as the avionics system cabling in a wide-body commercial jet, literally hundreds of unique tools are required to assemble, install and service the interconnect cabling.
Glenair manufactures many of the specialty tools used in high-reliability interconnect harness assembly. And we are distributors for a wide range of additional tooling from the industry's other leading manufacturers. In the United Kingdom, Italy, Germay, France and the Nordic region, Glenair has built a reputation for providing turnkey interconnect tool kits and tooling service programs. Military and commercial customers consistently choose Glenair as their tooling supplier due to our unique ability to provide:
System level tooling needs assessment and consulting
Custom kits and workstations for a broad range of interconnect applications and working environments
Custom tool labeling and packaging
Translated, local language tooling instruction sets
Calibration, test and refurbishing services
Same day availability on both individual tooling part numbers and kits
Glenair Designs, Plus the Best and Brightest from the Industry's Other Top Tooling Manufacturers
At Glenair, we not only manufacture the connectors, backshells, cables and enclosures which go into interconnect cable systems, we run a top-flight cable harness assembly service of our own. And we've drawn on our extensive experience in cable harness assembly to design and build a complete family of specialized backshell assembly tools for circular connectors, as well as connector wrenches, mini-strap wrenches, universal connector holding tools and braid termination tools for production and field maintenance.
Connector Backshell Assembly Tools, Banding Tools and Adapters
Glenair addresses interconnect system assembly needs with a variety of Military Standard and specialized connector tools, backshell assembly tools, braid termination tools and accessories. Our tool line includes connector wrenches and mini-strap wrenches, as well as universal connector holding tools for production use as well as field maintenance.
Glenair's Band-it® Termination System for braided metal shielding and protective fabric braiding includes both hand-held and bench-mountable units. The Band-It® Termination System provides fast and reliable terminations which pass the most stringent shock, vibration and thermal tests. The low profile and smooth inside diameter of the one-piece austenitic stainless steel clamping band used in the Band-It® Termination System virtually eliminates RFI/EMI/EMP leakage paths.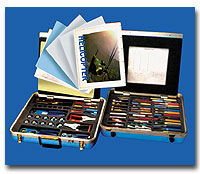 Glenair's European product and sales divisions are distributors for the most recognized names in interconnect tooling including Daniels Manufacturing, AMP, Astro, Ideal, Dubuis and others. Individual tooling requirements for all aspects of wire preparation, contact crimping and connector termination are available as are custom tool kits and workstations for a wide range of application environments. And as is always the case at Glenair, our tool line is in stock and ready for immediate shipment.
For more information on Glenair's backshell assembly tooling line, or for a copy of our Backshell Assembly Tools, Banding Tools and Accessories catalogue, please call our worldwide headquarters in Glendale, California at 818-247-6000 or FAX us at 818-500-9912. For more information on the complete range of interconnect assembly tooling available throughout Europe, please contact your local Glenair sales and engineering office.
A Winning Combination: Customized Tooling Solutions and Personalized Glenair Sales and Service
From fiber optic tool kits to earth bonding systems, Glenair has a tooling solution to meet every interconnect system requirement. But the tools are only half of the story. We also provide all the personalized service and dedicated account management required to ensure your business relationship with Glenair is both profitable and trouble-free. So take advantage of Glenair's unique tooling line – and service standards – for your next interconnect application.
Fiber Optic Termination and Hydraulic Earth Bond Tooling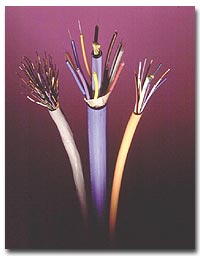 Fiber optic connectors are designed to be connected and disconnected many times without affecting the optical performance of the fiber circuit. Connectors can be thought of as transition devices which make it possible to divide fiber optic networks into interconnected subsystems and to facilitate the attachment of individual branches of the system to a transmitter, receiver or another fiber. The MIL-C-38999 connector is currently the most commonly specified multi-pin cylindrical interconnect in both fiber and copper conductor aerospace applications. When used to connect multiple strands of fiber simultaneously, the 38999 connector functions as a container or shell for the precision termini which perform the actual marriage of the fiber strands.
Termination and test of fiber optic interconnect cabling are facilitated with Glenair's Fiber Optic Termination and Test Probe Kits. The kits allow field technicians the convenience of completing final termination of precision termini on location for easy and efficient cable routing and installation. Each kit contains pin and socket polishing tools, jacket strippers, shears, scribes and all the other tools required for field termination and test of fiber optic systems.
Glenair's Ground Control Earth Bond System is the quickest, easiest, most cost effective solution to installing and maintaining grounding connections on steel plate and sheet metal. The GroundControl Earth Bond consists of two precision machined components: a stainless steel conical dowel and a plated copper or aluminium bushing.
Unlike conventional welded grounds, installation of the Ground Control Earth Bond requires no pre-cleaning or preparation of the work surface. The Earth Bond is simply inserted into a predrilled hole and then expanded using a light weight hydraulic pulling tool. Final connection of the terminal lug to the mated contact face of the earth bond is achieved with a self locking nut torqued to a predetermined load.
Bonds are selected by wall thickness (or the depth of blind hole) and the size of the grounding strap lug. Glenair offers two standard system sizes, 6mm and 10mm. Both sizes include Earth Bonds for thick and thin walls as well as their own size of hydraulic setting tool.