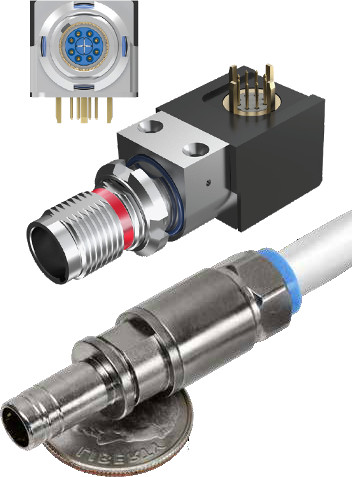 The Ultraminiature 10 Gigabit Ethernet and SuperSpeed USB Connector for Harsh Environments
High speed, harsh environment SuperFly® Datalink connectors — optimized for 10Gb Ethernet and SuperSpeed USB protocols — save significant size and weight compared to Quadrax. Suitable for aircraft avionics, weapons systems, satellites, radars, communications equipment and other aerospace/defense gear, Octaxial SuperFly® Datalink connectors bring superior EMC shielding, environmental protection, and signal integrity to mission-critical mil-aero applications.
Quick-disconnect "push-pull" versions are ideal for tactical gear. Threaded-coupling versions are intended for aircraft and space-grade applications where secure mating is a requirement.
Reference
Related Catalog
| | |
| --- | --- |
| | Cable Plug, Push-Pull QDC Coupling, 10GbE |
| | Cable Receptacle, Push-Pull QDC Coupling, 10GbE |
| | PC Tail Panel Receptacle, Push-Pull Coupling, 10GbE |
| | 90#176; PC Tail Panel Receptacle, Push-Pull Coupling, 10GbE |
| | Pre-Wired QDC Cordset, Single-Ended, 10GbE |
| | Pre-Wired QDC Cordset, Plug-to-Receptacle, 10GbE |
| | QDC Patch Cord, SuperFly to RJ45, 10GbE, Ground |
| | QDC Patch Cord, SuperFly to RJ45, 10GbE, Flight |
| | Cable Plug, Threaded Coupling, 10GbE |
| | Cable Receptacle, Threaded Coupling, 10GbE |
| | PC Tail Panel Receptacle, Threaded Coupling, 10GbE |
| | 90#176; PC Tail Panel Receptacle, Threaded Coupling, 10GbE |
| | Threaded Coupling Cordset, Single-Ended, 10GbE |
| | Threaded Coupling Cordset, Plug-to-Receptacle, 10GbE |
| | Threaded Coupling Patch Cord, SuperFly to RJ45, Ground |
| | Threaded Coupling Patch Cord, SuperFly to RJ45, Flight |
| | Cat 6A S/FTP Cable, Aerospace Grade |
| | Cat 6A S/UTP Cable, Aerospace Grade |
| | Cable Plug, Push-Pull QDC Coupling, USB 3.0 |
| | Cable Receptacle, Push-Pull QDC Coupling, USB 3.0 |
| | PC Tail Panel Receptacle, Push-Pull Coupling, USB 3.0 |
| | 90#176; PC Tail Panel Receptacle, Push-Pull Coupling, USB 3.0 |
| | Pre-Wired QDC Cordset, Single-Ended, USB 3.0 |
| | Pre-Wired QDC Cordset, Plug-to-Receptacle, USB 3.0 |
| | QDC Patch Cord, SuperFly-to-Standard-USB 3 Plug |
| | Cable Plug, Threaded Coupling, USB 3.0 |
| | Cable Receptacle, Threaded Coupling, USB 3.0 |
| | PC Tail Receptacle, Threaded Coupling, USB 3.0 |
| | 90#176; PC Tail Panel Receptacle, Threaded Coupling, USB 3.0 |
| | Threaded Coupling Cordset, Single-Ended, USB 3.0 |
| | Threaded Coupling Corsdet, Plug-to-Receptacle, USB 3.0 |
| | Threaded Coupling Patch Cord, SuperFly-to-USB 3.0 |
| | SuperSpeed USB Cables |